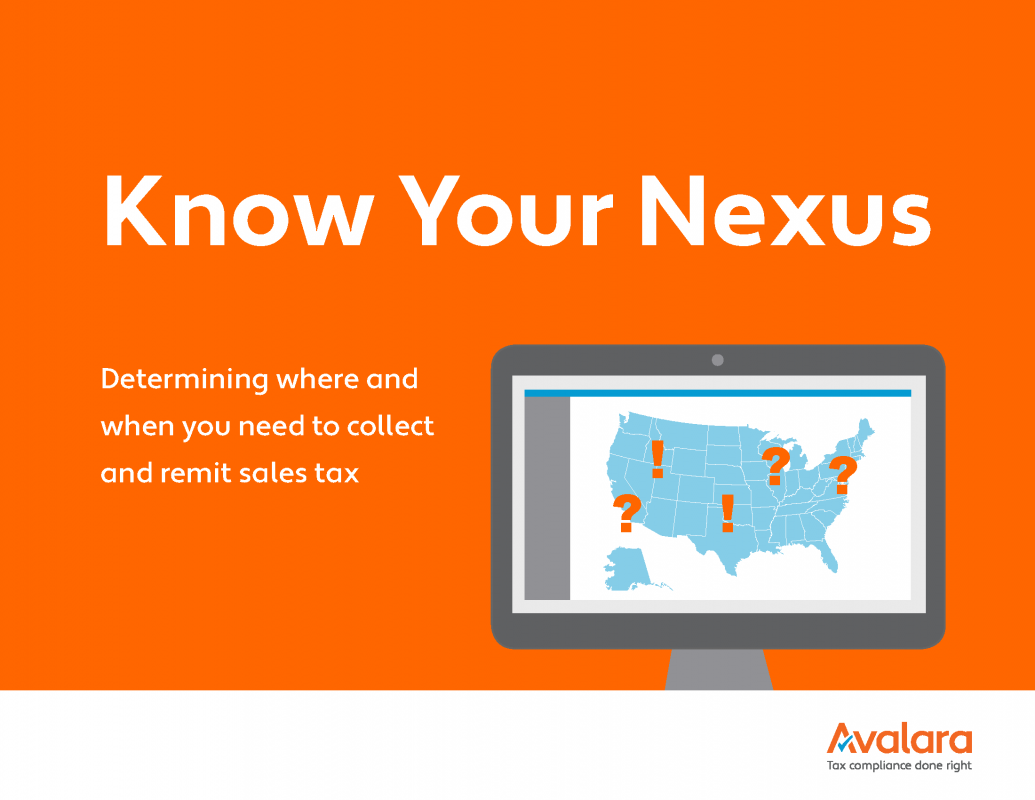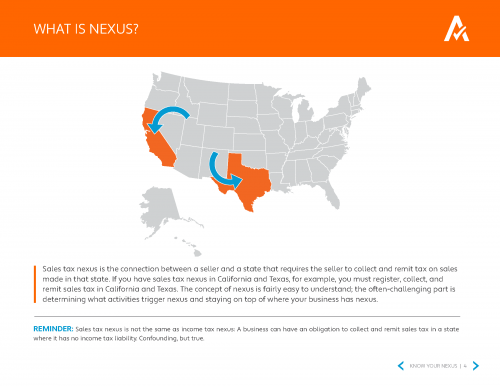 Getting sales and use tax compliance right is important. The first step to compliance often starts with understanding where your business has nexus, or where you need to collect and remit sales tax. But nexus is ever-changing and confusing for even the savviest business owner. Luckily, Avalara created an ebook all about nexus to help get you up-to-speed.
Avalara's Know Your Nexus ebook answers the key questions every business should ask:
> What business activities trigger nexus?
> How do you determine sales tax nexus?
> What should you do when nexus is established?
---
Avalara helps businesses of all sizes achieve compliance with transactional taxes, including sales and use, VAT, excise, communications, and other tax types. The company delivers comprehensive, automated, cloud-based solutions that are designed to be fast, accurate, and easy to use. Avalara's Compliance Cloud™ platform helps customers manage complicated and burdensome tax compliance obligations imposed by state, local, and other taxing authorities throughout the world.
Avalara offers more than 500 pre-built connectors into leading accounting, ERP, e-commerce and other business applications making the integration of tax and compliance solutions easy for customers. Each year, the company processes billions of indirect tax transactions for customers and users, files more than a million tax returns and other compliance documents.
https://mgina.com/wp-content/uploads/2020/02/know-your-nexus-ebook_Page_1.png
1700
2200
Webmaster
https://mgina.com/wp-content/uploads/2018/04/MGI-NA_Logo.png
Webmaster
2020-02-13 07:50:17
2020-05-07 23:53:25
Download Avalara's new ebook: Know Your Nexus