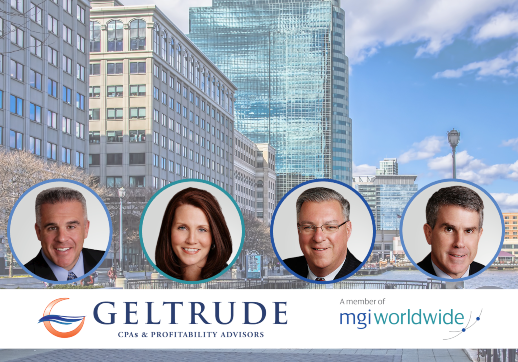 October 18, 2021
We are delighted to announce the joining of Dan Geltrude and team from Geltrude & Company based in New Jersey, USA to the MGI Worldwide network.  Geltrude & Company are proudly unique from other accounting firms, offering clients pioneering and proactive accounting and tax services that go beyond the traditional and enter into the strategic – and do it in a focused and mindful way.
Committed to entrepreneurial thinking, quality service, and client profitability
The firms' forward-thinking philosophy is demonstrated through a team of professionals committed to entrepreneurial thinking, quality service, and client profitability.
With 4 partners and over 30 professional staff, Geltrude & Company is a full-service accounting and financial consulting firm with specialty practice areas in Tax Planning, Outsourced Accounting, Family Office and Pension Audits.
Hello! from Nutley, New Jersey, New York metropolitan area

 






Minimizing taxes, maximizing profits
Based in Nutley, New Jersey within  the New York metropolitan area Geltrude & Company is located in the hub of the financial world.
Founder and Managing Partner, and key MGI Worldwide contact, Dan Geltrude says,
"We go right to what clients really want as human beings, and that  is to have less pain and more pleasure.
"In the accounting world that translates to minimizing taxes and maximizing profitability. When Geltrude & Company engages with any of your potential clients we are going to do more than just get the numbers on the right page. We are actually going to make sure that clients benefit from that information – that's what makes the difference."
Keen to exchange information and experiences
Dan and his team are looking forward to engaging with members in North America and around the world and exchanging information among firms and with each other to help make all firms stronger, more adaptive, and profitable.
Look out for Dan at this week's Global Meeting where he will be moderating a breakout session titled "Making your firm stand out from the crowd." Don't miss this excellent opportunity to meet with Dan and exchange ideas so you can get to know each other better.
Introducing Dan Geltrude, a "go-to-expert"
Dan is a go-to-expert for major media outlets in the United States for all finance, economic, accounting and tax topics, and often referred to as "America's Accountant®."
Dan is focused on using his skills and experience to deliver value to clients and for over 35 years has made a significant positive impact on the accounting profession and the State of New Jersey.
In 2019 Dan received the induction to the Nutley Hall of Fame joining a select group of highly accomplished individuals. You can read Dan's announcement on the Nutley Hall of Fame website here.
Your MGI Worldwide key contacts at Geltrude and Company 
Dan Geltrude
Founder, Managing Partner

Ellen Rabasca
Partner

John Wlosek
Partner

Michael W. Carlon
Partner
You can find out more about Geltrude & Company at the firm's website or on their firm profile page.
MGI Worldwide with CPAAI, is a top 20 ranked global accounting network and association with almost 10,000 professionals, accountants and tax experts in some 460 locations in over 100 countries around the world.
https://mgina.com/wp-content/uploads/2021/10/geltrude-lead-518x362-1.png
362
518
Joanna Castle
https://mgina.com/wp-content/uploads/2018/04/MGI-NA_Logo.png
Joanna Castle
2021-10-22 18:24:09
2021-10-22 21:01:22
Forward-thinking New Jersey firm Geltrude & Company becomes latest member to join MGI Worldwide in the North America region