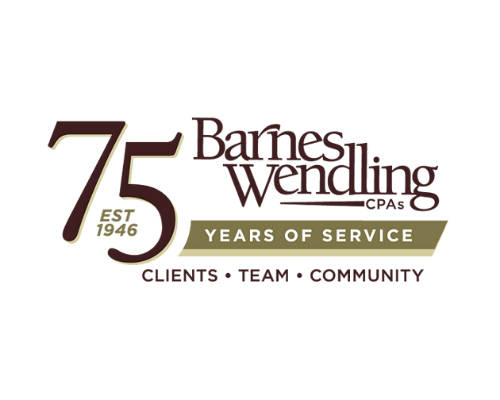 June 29, 2021
Marking decades of meeting evolving client needs and delivering unparalleled service to the people of Cleveland, Northeastern Ohio, and beyond
Barnes Wendling CPAs is pleased to celebrate the anniversary of its founding 75 years ago.
In commemoration of this momentous milestone, Director and President Jeffrey D. Neuman states, "The main reason Barnes Wendling has been in business for 75 years and has been successful to this point is because we put our clients first."
As a member of the world-renowned association, MGI Worldwide with CPAAI Associates, Barnes Wendling is proud of its achievements over the decades. More recently, Barnes Wendling ranked as one of the top 300 U.S.-based accounting firms by Inside Public Accounting in 2020.
Commenting on their long-standing and established client relationship that has lasted 55 years, COO at Standby Screw Machine Products William Marcell II asserts, "Barnes Wendling is a member of the standby team. We don't do things without their input; we wouldn't be where we are today without their help."
Moreover, it should be noted that Barnes Wendling strives to not only serve its clients, but it also works to support and empower its employees as well. It is their priority to provide a positive, encouraging, and supportive work environment that promotes professional growth. For the past 10 years, Barnes Wendling has been named one of the top 99 best places to work in Northeast Ohio by NorthCoast 99, an annual recognition program and event that honors 99 great workplaces for top talent in Northeast Ohio.
Marketing Manager Rachel Pompeani says, "Barnes Wendling promotes professional growth, and more notably, members of leadership truly listen to the employees' wants and needs. They prioritize the happiness of the team and continuously ask for feedback and suggestions for improvement in the workplace to ensure employee happiness, well-being and success."
Notably, the CPA accounting firm is known for its unwavering commitment to its customers and always achieving its client service objective of building and maintaining net worth for its valued customers. Its strong partnerships with leading companies and organizations throughout Cleveland, the state of Ohio, and beyond are testament to the excellent customer service it delivers.
In the reflection of his time working at Barnes Wendling since 1967, Director Donald F. Zwilling explains, "What we do best is excellent client service. We are also concerned about our team and allow them to explore different areas. As a good corporate citizen, we do a lot in the community to help other people."
Mr. Neuman concludes, "Through multiple generations of leadership, we have kept our clients front and center; that's the only reason we exist as a company."
###
About Barnes Wendling CPAs
Celebrating its 75th anniversary this year, Barnes Wendling CPAs is a Cleveland-based accounting, tax, and advisory firm, serving privately-held businesses and not-for-profit organizations since 1946. Regardless of anyone's accounting, tax, or advisory service needs, Barnes Wendling's approach is driven by its client service objective of building and maintaining net worth.
Learn more about Barnes Wendling CPAs by visiting our website and following us on social media:
Facebook
LinkedIn
PRESS RELEASE
CONTACT INFORMATION:
Jeffrey Neuman, President
jdn@barneswendling.com
(216) 566-9000
https://mgina.com/wp-content/uploads/2021/07/Barnes-Wendling-75th-anniversary-1.png
400
500
Joanna Castle
https://mgina.com/wp-content/uploads/2018/04/MGI-NA_Logo.png
Joanna Castle
2021-07-01 23:11:09
2021-07-01 23:53:09
Barnes Wendling Celebrates 75-Year-Anniversary