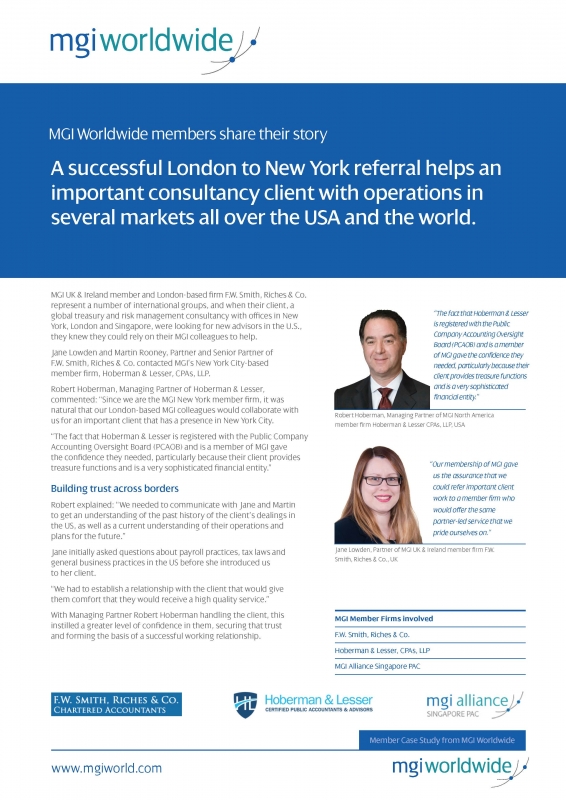 A successful London to New York referral helps an important consultancy client with operations in several markets all over the USA and the world.
MGI UK & Ireland member and London-based firm F.W. Smith, Riches & Co. represent a number of international groups, and when their client, a global treasury and risk management consultancy with offices in New York, London and Singapore, were looking for new advisors in the U.S., they knew they could rely on their MGI colleagues to help.
Jane Lowden and Martin Rooney, Partner and Senior Partner of  F.W. Smith, Riches & Co. contacted MGI's New York City-based member firm, Hoberman & Lesser, CPAs, LLP.
Robert Hoberman, Managing Partner of Hoberman & Lesser, commented: "Since we are the MGI New York member firm, it was natural that our London-based MGI colleagues would collaborate with us for an important client that has a presence in New York City.
"The fact that Hoberman & Lesser is registered with the Public Company Accounting Oversight Board (PCAOB) and is a member of MGI gave the confidence they needed, particularly because their client provides treasure functions and is a very sophisticated financial entity."
Read the complete case study here.
https://mgina.com/wp-content/uploads/2018/11/MGI-Case-Study-F.W.Smith_.-Riches-Co-FINAL_Page_1.jpg
3520
2489
Webmaster
https://mgina.com/wp-content/uploads/2018/04/MGI-NA_Logo.png
Webmaster
2018-11-29 02:12:05
2020-05-07 04:32:02
A London to New York referral helps an important consultancy client with operations all over the USA and the world