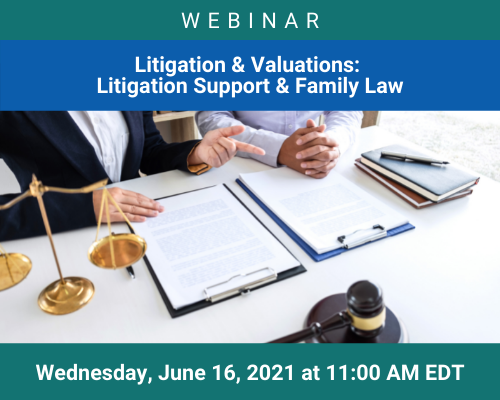 Litigation & Valuations: Litigation Support & Family Law Seminar
Please join us for an informative webinar on Litigation and Family Law. Our speaker, Kim J. Onisko, Partner at O&S CPAs & Advisors, in California, will address practical strategies and helpful tips to start your own forensic family law practice. The presentation will also include case studies and real-world examples that will keep you engaged.
Who Should Attend
Members who want to expand their practices and learn more about the forensic area.
Event Objective
Webinar attendees will learn about Forensic Accounting for Divorce as well as:
Framework of Family Law Forensic Matters
Engagement Materials

Client acceptance
Separate engagements
Joint engagements
Engagement letters

Income Available for Support

 Employees
Business owners
How to treat investments

Property Division

 Community
Separate
Accounting vs. Tracing
Business valuation tips

Hidden Income

How to hide the money
Basic techniques to uncover
How to explain it to the judge

How to Develop a Divorce Practice

Minimum qualifications
How to sell your services
About the Speaker
Kim is the consulting and forensic accounting partner at Onisko & Scholz. He supervises accounting, audit, review and compilation engagements performed for corporations, s-corporations, limited partnerships, partnerships, estates, trusts and nonprofit organizations. A portion of Kim's practice is forensic accounting and litigation support.
Kim has worked in litigation since 1992 and is often called as an expert witness in the areas of accounting, economic damages and forensic accounting. He has performed economic loss analysis in matters of intellectual property, contract disputes, loss of profits and personal injury cases. He has also performed special forensic engagements for local and state governmental agencies.
Kim is Certified in Financial Forensics by the AICPA, Accredited in Business Valuation and is also a Certified Fraud Examiner.
Kim J. Onisko
Partner, O&S CPAs & Business Advisors
MGI North America
Date: Wednesday, June 16, 2021 
Time: 11:00 AM EST 
Link to Zoom provided after registration