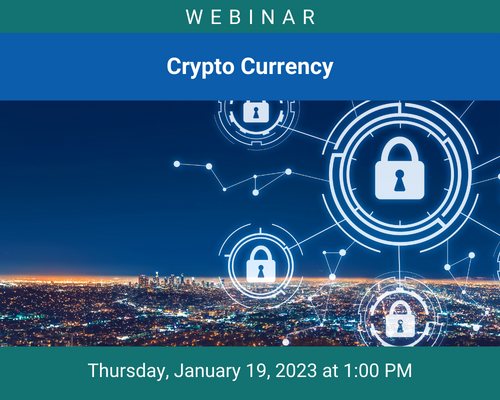 The Nuts & Bolts of Cryptocurrency Taxation
You're invited to a webinar hosted by The Tax Committee. Cryptocurrency is heading mainstream. According to a recent study conducted by New York Digital Investment Group, there are 46 million bitcoin holders in the US, and institutions have also shown increased interest in this space. The rising popularity of cryptocurrency and the inclusion of the virtual currency question on Form 1040 have made cryptocurrency a subject that tax practitioners cannot afford to ignore anymore. This course is designed to walk you through the tax implications of common cryptocurrency-related transactions, including trading, mining, spending, staking, and show you how to successfully service clients affiliated with crypto currency by using a tool like CoinTracker. This session also covers current developments surrounding this topic and some of the unique tax planning opportunities in the crypto space, such as tax loss harvesting without being subject to wash sale rules, tax lot ID optimization (FIFO, LIFO, and HIFO), self-directed IRAs, etc.
Learning Objectives
Recognize the latest in blockchain technology and how it is impacting our world
Understand how to interact with cryptocurrency
Understand the tax implications of investing in cryptocurrency, running a mining operation, using NFTs, and using cryptocurrency as a payment method
Recognize challenges in dealing with cryptocurrency-related clients
Apply tax planning opportunities
Serve clients with cryptocurrency transactions using a tool like CoinTracker.io
Topics Covered
What is blockchain technology?
How do you buy and store crypto?
Use cases of cryptocurrency
Blockchain technology
Tax overview and tax planning opportunities
How taxes work for cryptocurrency investors and mining
Taxation of other transactions
Foreign reporting requirements and crypto
How to use a tool like CoinTracker to calculate capital gains and losses
New developments in the space
Why do accountants need to care?
NASBA Field of Study
Taxation (2 hours)
Designed For
Accounting and Finance Professionals who want to gain a high-level understanding of how cryptocurrencies work and how to serve clients with cryptocurrency transactions
About the Speaker
Mike Frost, CPA, of Jacksonville, Alabama, provides tax consulting, continuing education, and motivational speaking services through his company, Mike Frost Enterprises. Mike is a former shareholder of MDA Professional Group, PC, where he managed the tax department of the Albertville office. Mike has 31 years of experience in public accounting, including but not limited to: Business and individual income tax preparation and planning; mergers and acquisitions; estate, gift, and trust tax preparation; small business consulting; Medicare planning and other elder care; audit representation; and religious groups and clergy.
Mike has conducted CPE engagements and seminars throughout the United States and has served as technical advisor for tax articles in The Sand Mountain Reporter, a local newspaper. Mike has been a featured presenter at the Alabama Society of CPAs Annual Meeting and the Federal Tax Clinic held annually at the University of Alabama in Tuscaloosa.
Mike graduated with "high honors and distinction" from Jacksonville State University with a major in accounting and a minor in finance and a 4.0 GPA. He is a member of the American Institute of Certified Public Accountants and the Alabama Society of Certified Public Accountants. In addition, he is a graduate of the Tax Planning and Advising for Closely Held Businesses Certificate of Educational Achievement Program sponsored by the AICPA.