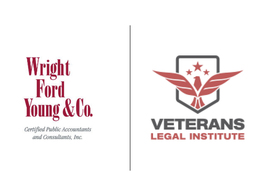 For the second year in a row, Wright Ford Young & Co. will be the Title Sponsor for Veterans Legal Institute's annual Lawyers for Warriors Event
For years, Veterans Legal Institute has been providing pro bono legal assistance to homeless, at-risk, disabled and low-income current and former service members to eradicate barriers to housing, healthcare, education, and employment and foster self-sufficiency. Their core values are outreach, compassion, quality, leadership, and empowerment – values that fall in line with WFY's values.  The Lawyers for Warriors Networking & Fundraising Event is a way to honor hero advocates who have contributed to VLI's cause.
Veterans Legal Institute and Wright Ford Young & Co. have had a continuous relationship with one another for many years. "We're honored to stand with our veterans, bringing them the power of pro bono legal services when they need it most," said Jeff Myers, WFY's Senior Audit Partner and Co-Managing Partner.  WFY not only makes contributions to VLI, but also supports their services and what they do for veterans and servicemen in need.
If you'd like learn more about this event or donate to Veterans Legal Institute, click here.
About Wright Ford Young & Co.
Founded in 1973, Wright Ford Young & Co. (WFY) has been serving clients throughout the United States from our office located in Irvine, California. We have 12 partners, 60 professional staff and total employment of approximately 80 people. As our clients' needs expanded over the years, Wright Ford Young & Co. rose to meet them and developed our service areas into one of the largest single office full-service mezzanine accounting firms in Orange County. WFY is a member of the American Institute of Certified Public Accountants (AICPA) and the California Society of Certified Public Accountants. We are a Public Company Accounting Oversight Board (PCAOB) registered firm and have completed our 2015 peer review with a clean opinion and no comments noted.
At Wright Ford Young & Co., we have earned a reputation for taking care of our clients and our team members, so it should be no surprise that it's our culture to provide support and care to the local communities in which we live and work. Every year, Wright Ford Young & Co. donates one percent of our gross revenues to local charities. Learn more about WFY's commitment to our communities here.
https://mgina.com/wp-content/uploads/2020/02/WFY-VLI-Event-image.jpg
195
260
Webmaster
https://mgina.com/wp-content/uploads/2018/04/MGI-NA_Logo.png
Webmaster
2020-02-20 00:48:30
2020-02-20 01:15:31
Wright Ford Young & Co. will be the Title Sponsor for Veterans Legal Institute's 2020 Lawyers for Warriors