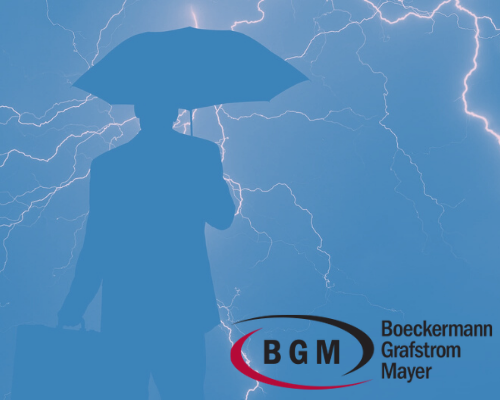 Business Strategies During a Downturn
By Dane Bockermann, CPA , Principal, Boeckermann Grafstrom & Mayer
During these difficult times of the Coronavirus pandemic, there has been a lot of discussion about the different government programs available to help small businesses weather the storm. However, there are several internal things that businesses can do to help them make it through an economic downturn. Below are the actions that all businesses should be doing during a downturn in the economy.
Constantly Review Your Expenses
Make sure you are implementing best practices for tracking and managing operational costs and quickly eliminate non-essential expenses. Your finance group can take the first step in this process by compiling a list of actions that could save the company money and then ensuring follow-through on any changes you decide to make.
Focus on Quality
Don't let being understaffed impact your level of service and quality of your product. Options include freelancers, consultants, and part-time employees. One advantage of a slowdown is that hiring gets easier because there are more candidates from which to choose due to layoffs and other cutbacks.
Review Capital Spending
Consider delaying both the purchase of high-ticket items and expansion plans that take a long time to pay off.
Manage Inventory Balances
Typically, during a slowdown, there is an imbalance between sales and overstocked inventories. One possibility is converting inventories into cash. Monitor the results, keeping an eye out for those products that can tolerate even leaner inventories or that should be eliminated from your stock. This way if sales drop significantly, less of your cash is locked into unproductive assets.
Manage Debt and Build Up Your Capital Reserves
Monitor the creditworthiness of your customers—even bread and butter accounts. Remaining close to existing customers and checking to see how they are getting on during the economic downturn, not only helps avoid unpleasant surprises but could also lead to new opportunities. When times are tough keeping in touch with customers becomes vital to head off eager competitors. Try to lock up long-term contracts with your most important customers at anything approaching acceptable terms. Offer prepayment incentives, for example, and discounts on long-term buys. Financing is also critical. For example, entrepreneurs have been taught to pay off debt as quickly as possible. However, under the current credit crisis, you may not want to do that. Once you pay off your line of credit or credit card, you may quickly find the bank closes your account and makes the credit unavailable.
Aggressively Manage Collections
Companies have to become more aggressive in collecting receivables, including calling significant customers before payment is due to ensure there are no issues with payment. You should consider implementing more aggressive policies for reaching out to clients that are behind their payment terms. Being tough with customers may be unpleasant, but it's an important safeguard against the effects of a prolonged economic slowdown.
Renew Your Focus on Budgeting and Forecasting
Ensure you are implementing best practices in preparing and managing your budget and forecasting future revenues. During prosperous times, it is easy to lose focus on the need for accurate and predictable budgeting. Similarly, forecasting revenue during a slowing economy becomes increasingly difficult as sales cycles lengthen and workforce reductions are often necessitated. Accounting and finance operations must be streamlined and focused, and best practices need to be put in place so that senior management can make sure the business has enough cash on hand while avoiding operational surprises.
Analyze Your Pricing
A recession is the last time you want to increase your pricing, so understanding your cost structure is essential to drive down costs and optimize profits. If your cost analysis shows that your current pricing is not enough to cover costs and provide a reasonable profit, you must find ways to be more efficient rather than increasing your price.
Be Aggressive in the Marketplace
Actively seek out new business. Take the time to evaluate if there are new services or products you can provide during the change of the economy. Clients and customers will have new needs and demands when the economy has a downturn. An economic downturn can be a great time to invest in sales and marketing, but only if you are confident of your cash flows.
During a tough economy, best practices for accounting and finance can make the difference between the success and failure of a business.
If you have questions or would like to learn more, contact Dane Boeckermann at djboeckermann@bgm-cpa.com.
https://mgina.com/wp-content/uploads/2020/06/BGM-Business-During-a-Storm.png
400
500
Webmaster
https://mgina.com/wp-content/uploads/2018/04/MGI-NA_Logo.png
Webmaster
2020-06-03 21:46:56
2020-06-03 21:46:56
Business Strategies During a Downturn