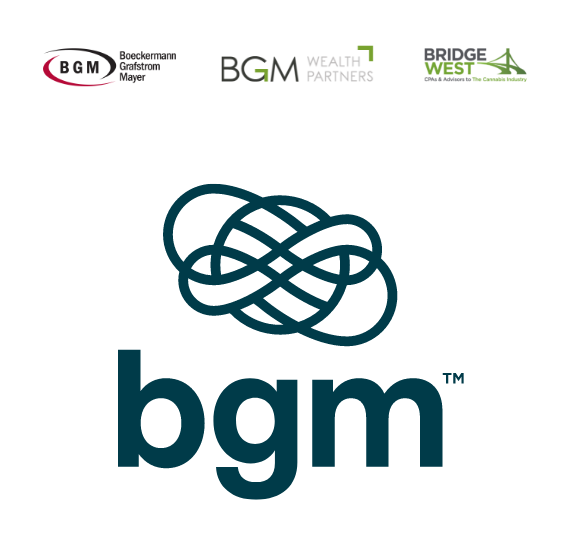 Boeckermann Grafstrom & Mayer, BGM Wealth Partners, and Bridge West Weave Together their Talents to form BGM, Introducing New Brand and Website
MINNEAPOLIS, October 19, 2023 — Boeckermann Grafstrom & Mayer, BGM Wealth Partners, and Bridge West, have joined together under a single banner, proudly introducing themselves as BGM. This consolidation of professional skill and experience brings together a diverse range of proficiencies in traditional accounting, advisory and tax services, cannabis-specific CPA services, and wealth management advisement. This combination comes hand-in-hand with an exciting rebrand and the launch of a new website, BGM360.com.
"We are thrilled to embark on our journey into the future as BGM and introduce our rebrand and our
new website," states Cory Parnell, CEO and Principal of BGM. "By eliminating the barriers between our various business lines, BGM simplifies the process for our clients to access a comprehensive range of financial expertise and services. Consolidating our strengths and know-how into a single firm empowers us to offer clients seamless, all-in-one financial solutions tailored to their distinct needs."
Key features of the BGM rebrand include a modernized green and gold logo, a vibrant color palette, and a refreshed brand message that underscores BGM's dedication to client-centric services and forward-thinking strategies. The logo highlights a Gordian Knot, representing the unification of BGM's many innovative capabilities, diverse talent, and distinct business parts as they seamlessly intertwine to form something greater than the sum of its parts.
The newly launched website, BGM360.com, offers a revitalized and user-friendly experience, simplifying the exploration of our extensive portfolio of solutions and services. By consolidating our capabilities under a single firm, visitors to our site gain exposure to a broader spectrum of service offerings they may not have previously encountered. Navigation of the site has been purposefully designed for a more seamless experience. This not only grants visitors easy access to resources, educational content, and insights from industry experts, but also provides prospective employees with the chance to explore an enhanced careers section to delve into BGM's culture and browse current job openings.
BGM, which is headquartered in Bloomington, Minnesota, a suburb of the Twin Cities, has had an exciting year of growth and change. In the summer of 2022, the firm announced the expansion and
relocation of its headquarters into a new and modern space in International Plaza. During the fall that same year, BGM celebrated its 40th anniversary and welcomed clients and friends to an open house celebration.
About BGM
Since 1982, BGM has been fueled by an entrepreneurial spirit that matches the same passion for
problem solving, innovation, and forward thinking displayed by our clients. For over four decades, we've carefully woven together a firm that offers a full suite of financial services, from audit and assurance, to accounting, to advising, and beyond, to ensure everything we do will advance the present growth and future goals of our clients. Learn more at BGM360.com.
MEDIA CONTACT
Leah Radtke, Marketing Manager
BGM
Phone: 952.844.2551
LRADTKE@BGM360.com
https://mgina.com/wp-content/uploads/2023/10/BGM.ART_.PopUp_.Logos2_.png
548
578
Webmaster
https://mgina.com/wp-content/uploads/2018/04/MGI-NA_Logo.png
Webmaster
2023-10-19 18:45:51
2023-10-19 18:53:27
Boeckermann Grafstrom & Mayer, BGM Wealth Partners, and Bridge West Weave Together their Talents to form BGM, Introducing New Brand and Website