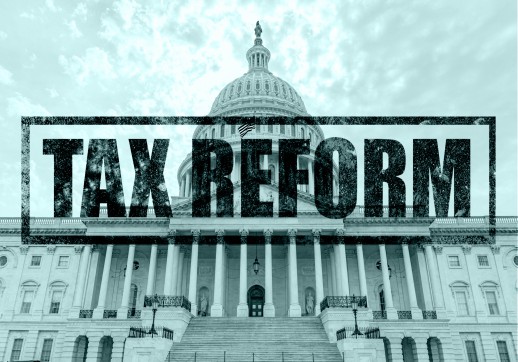 Regulatory changes and economic uncertainty are giving CPAs in North America plenty of food for thought as they navigate clients through the implications of tax reform and trade agreements. Members of the global accountancy network give their views as part of the USA & Canada survey published in the March edition of the International Accounting Bulletin.
Tax reforms being introduced in the US by President Donald Trump look set to create extra demand for the expertise of certified public accountants (CPAs), signalling potential new opportunities for US-based members of the MGI Worldwide global accounting network.
This is the view of Ed Fahey, deputy chairman of MGI Worldwide and managing partner at MGI North America member firm RINA accountancy corporation. His opinion was quoted in the March 2018 edition of the International Accounting Bulletin (IAB), which focused on the 'winners and losers' of the reforms.
What do the US tax reforms involve?
President Trump's tax reforms present the biggest overhaul of the US tax system in more than 30 years. They will see the corporate tax rate cut from its current rate of 35 per cent to 21 per cent, while US-based firms will also face lower taxes on profits made overseas.
Meanwhile, inheritance tax payments will be lowered, and the threshold of child tax credit is to be increased.
Tax reform impact in the US vs Canada
Mr Fahey explained: "In addition to deciphering complexities for compliance purposes, we can consult on opportunities created. We will be called upon to evaluate entity selection and proper structuring of operations to take advantage of the reforms."
"Clients want to understand the impact in terms of potential tax costs or savings, but also have questions about structuring future activities. Even if the impact is nominal, the concerns and questions are top of mind for business owners and investors."
However, it could be a different story in Canada, with more interest in the US accountancy market following the reforms possibly taking some work away from Canadian CPAs.
Erin Edwards, a partner at Vancouver-based MGI North America member firm McLean Bartok Edwards, stated: "I have a view that the reform may have an impact on the Canadian economy if the US is viewed as a more attractive place to headquarter or do business.
"I would expect the accounting profession will take it in its stride, as we do whenever there is a major change to the tax rules."
Tax reforms 'creating incentives'
At the same time, Mr Fahey also believes that the reforms present "significant incentives for companies to invest in their operations", thanks to changes to the depreciation of real estate and expensing of business equipment.
"The payroll component of the 20 per cent business income deduction, if applicable, rewards job creation," he stated.
"The timing will vary depending on the company's growth plans and need for new production capacity. The location of revenue from intellectual property will also be closely looked at by companies."
RINA accountancy corporation is a member of MGI North America with office locations in Walnut Creek, Oakland and San Francisco, California, USA and a member of the MGI Worldwide global accountancy network for almost 30 years. RINA's team of accounting and business professionals create a collaborative environment that fosters innovative thinking and proactive solutions to help clients achieve their business and financial goals.
McLean Bartok Edwards is a member of MGI North America located in Vancouver, Canada and a member of the MGI Worldwide global accounting network for almost 5 years. McLean Bartok Edward is a full-service Professional Accounting firm, providing clients throughout BC, Alberta and Washington state with a personalized service at competitive rates. This firm is large enough to provide a wide range of professional services, but pride themselves on being readily accessible.
MGI North America is part of global accounting network MGI Worldwide and ranked 17th among the top international accounting networks and associations in the United States.
For more information contact MGI North America Regional Coordinator Joe Tarasco at joe.tarasco@mgiworld.com
MGI Worldwide is a top 20 ranked global accounting network with some 5,000 independent auditors, accountants and tax experts in over 260 locations around the world.
https://mgina.com/wp-content/uploads/2018/04/north-am-tax-reforms.jpg
362
518
mginorthamerica
https://mgina.com/wp-content/uploads/2018/04/MGI-NA_Logo.png
mginorthamerica
2018-04-12 16:46:01
2018-04-26 01:45:12
International network accounting firms in North America comment on US tax reforms