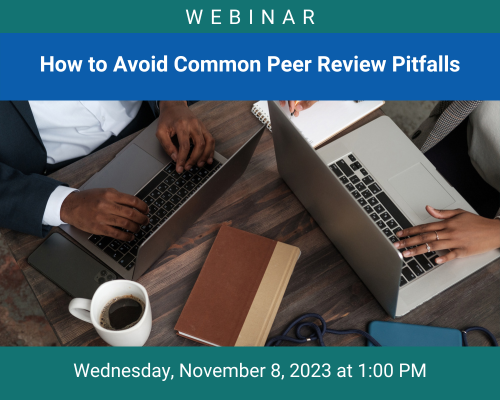 How to Avoid Common Peer Review Pitfalls
What does it take to have a properly designed and operating effectively quality control system that leads your CPA firm to receive a pass with no findings on your next peer review report?  Find out how you can create a strong quality control environment for your assurance practice.  Offering practical guidance, this session will assist you in the process for selecting the appropriate peer reviewer and to determine the right year-end for your practice.
Recent changes to enhance the peer review process by incorporating best practices of effective peer reviewers into the Peer Review standards, interpretations, and related guidance are also covered in this course. These changes are intended to reinforce the need for adequate planning and preparation for a peer review by both firms and peer reviewers to allow sufficient time for proper identification of systemic causes and appropriate remediation, when necessary.
Who is the course designed for
CPA firms and practitioners who are subject to the AICPA Peer Review who perform audits, reviews, compilations and other attestation services for small and mid-size private entities.
Topics Covered
Provide best practices on how to create an environment that focuses on quality;
Discuss basic steps for monitoring and performing internal inspections;
Discuss key considerations related to establishing a quality control system based on the AICPA Statements on Quality Control Standards;
Address significant recurring engagement deficiencies and how to prevent them; and
How to properly prepare for your next AICPA Peer Review, including decisions to make and how to gather and maintain the correction information.
Learning Objective
The objective of this course is to provide both practical and insightful perspectives on how a CPA firm will prepare for its upcoming AICPA Peer Review.
Level
Intermediate
NASBA Field of Study
Auditing
Program Prerequisites
Experience in either leading a CPA firm's accounting & auditing practice or practitioners who have previously conducted monitoring procedures.
Advance Preparation
None
CPE Credit
2.4 CPE credits
Speaker
Salvatore A. Collemi, CPA
Collemi Consulting & Advisory Services, LLC
Collemi Consulting & Advisory Services, LLC's mission is to promote and enhance audit quality to U.S. and international public accounting firms, litigation attorneys, valuation specialists, boards & audit committees of private and publicly-traded companies and related institutions & organizations that support the public accounting profession.
Salvatore Collemi launched his practice in 2016 in order to assist individuals, firms and organizations in navigating the complexities of the ever-changing landscape of financial reporting, attest functions and compliance. Collemi Consulting & Advisory Services provides high-level strategic and technical guidance when it matters the most – whether to retain key attest clients or comply with the requirements set by standard-setters and regulators. With a deep industry experience and a solid network of contacts, we provide a full range of accounting & auditing consultations, technical reviews of financial statements and workpapers, AICPA Peer Review and PCAOB Inspection preparation, internal inspection, CPE training, independence & ethics consultations and design of quality control systems services.
Salvatore is a recognized subject matter expert (SME) on U.S. and International financial reporting and auditing standards with two decades of global business experience servicing a broad base of commercial and financial services industries. He also advises on corporate governance and risk management issues facing U.S. public accounting firms. As a former Staff Accountant in the Division of Corporation Finance, Technical Manager in the National Peer Review Program and external auditor at leading institutions such as the U.S. Securities and Exchange Commission (SEC), the American Institute of Certified Public Accountants (AICPA), McGladrey & Pullen, BDO Seidman and Grant Thornton, he has demonstrated the impact of U.S. and International financial reporting, internal control systems and regulatory compliance acumen as they affect privately-held and publicly-traded companies.
SALVATORE A. COLLEMI
Collemi Consulting & Advisory Services, LLC
MGI North America
Date: Wednesday, November 8, 2023
Time: 1:00 PM – 3:00 PM ET