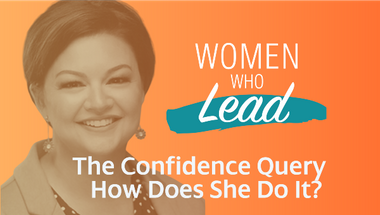 The Confidence Query: How Does She Do It?
Have you ever admired a coworker who seems to walk into any situation with ease and confidence? Would you like to bolster your confidence and build that level of assurance in various situations? Do you ever 'second guess' yourself even though you have the experience to speak and act confidently?
We're told that confidence leads to success, yet many of us find it challenging to consistently cultivate the confidence that we often admire in others. Join us for an interactive hour of discussion and sharing to explore how you can tap into your strengths and increase your belief in yourself to grow your leadership abilities.
During this session, we will hear from Danielle McCormick, Founder and CEO of Spiirall, an organization of passionate people who want to change how the industry approaches talent retention. Danielle's role is to give employees and leaders a lift from they are professionally to where they want to go.  This session is relevant for all MGI Female Talents around the world at all levels. We encourage you to please share this invitation among your female colleagues.

Danielle McCormick
Founder and CEO, Spiirall
MGI North America
Date: Thursday, July 27, 2023
Time: 10:30 AM ET