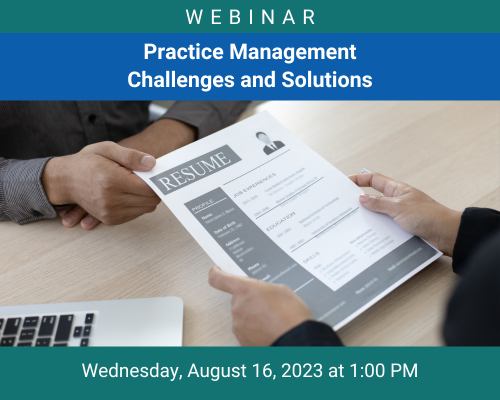 The MAP Committee presents a webinar on Practice Management Challenges and Solutions. Joe Tarasco, Regional Director of MGI North America, will lead the discussion. Come share your experiences and learn from other members. Feel free to share this event with your staff.
Who is the course designed for
HR, Firm Administration, Recruiting, Marketing, Managing Partners and others who have experience managing a CPA firm
Topics Covered
Workflow and Process Optimization: Streamlining workflows and optimizing processes can improve efficiency and productivity. This includes defining standardized procedures, leveraging technology and automation tools, and continuously evaluating and improving internal systems.

Staff Management: Managing the team of accountants and support staff is essential. It involves hiring qualified professionals, fostering a positive work environment, and ensuring that staff receive periodic performance reviews with their direct reports and partner mentoring. Using contemporary performance management software.

Technology Integration: Embracing technology can enhance efficiency and accuracy. Implementing accounting software, cloud-based solutions, and data security measures can streamline processes, facilitate collaboration, and improve data management.

Continuous Professional Development: The accounting field is constantly evolving, so promoting ongoing professional development is important. Encouraging staff to pursue training and certifications, staying updated with industry trends, and fostering a culture of learning can keep the firm competitive.

Build a Talent Pipeline: Maintain relationships with potential candidates, such as interns or recent graduates, who may be a good fit for future openings. This helps to establish a talent pipeline and reduces the time and effort required for future recruitment.
Learning Objective
The objective of this course is to share practical and insightful experiences on how a CPA firm can improve management and operations
Level
Intermediate
Program Prerequisites
Experience managing various aspects of a CPA firm
Advance Preparation
None
CPE Credit
2-hours