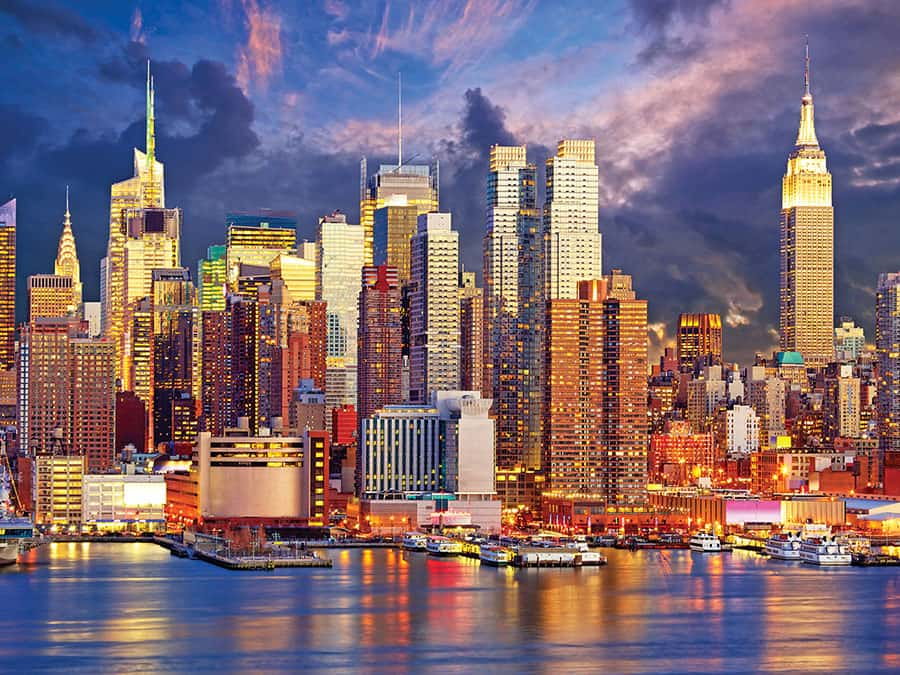 Highlights from the 2019 MGI North America Annual Conference
16-17 May, 2019, New York, New York, USA
MGI North America Annual Conference attracts many members from all around the world, plus a record-breaking number of sponsors
MGI North America (MGI NA) held the 2019 Annual Conference at the New York Marriott Marquis on Broadway in New York City on May 16 – 17, 2019.  The conference backdrop was Times Square – the iconic area of Manhattan known as "The Crossroads of the World" – and New York upheld its reputation as "the city that never sleeps." The city's energy was electric and poured into the atmosphere of the conference meetings and evening functions, and even included a New York music playlist throughout the event and NYC travel guides and magazines for attendees.
Members of the MGI Worldwide International Committee attended the conference representing eight regions of the world. Roger Isaacs, Chairman, and Clive Viegas Bennett, CEO, presented a committee update, along with the MGI Worldwide management team and Maxine Brock, MGI Worldwide's International Marketing Director. The conference was organized and facilitated by Joe Tarasco, MGI NA's Regional Director, and Nancy Damato, MGI NA's Director of Marketing, and assisted by Joanna Castle, MGI NA's Marketing Coordinator.
The conference highlights include:
A total of 47 Delegates and accompanying guests attended from all around the world, and from as far as Budapest, Hungary; Dubai; Singapore; Ecuador; Sydney, Australia; and Cape Town, South Africa.
A record-breaking ten sponsors supported the meeting by attending, exhibiting, and presenting at the conference.
The conference agenda was comprised of many topical and relevant presentations, including:

Cyber Liability Exposures and Failures to Detect Fraud Risks
Attracting, Retaining, and Developing Staff
Similarities with the Hospitality Industry and Public Accounting: Making Staff #1 and Clients #2 as a Business Strategy
MGI NA and Mackrell International's Cannabis Law & Accounting Group
Cannabis and Hemp Industries Update and Outlook
Member Best Practices Panel Discussion on a variety of timely topics, such as succession planning, hiring business development and sales professionals, advisory services, and marketing and branding strategies
Two exciting evening events included a panoramic view of Times Square facing the iconic "New Year's Eve Crystal Ball" and a sky top venue with bird's eye views of the NYC skyline and the Empire State Building. The venues provided the perfect setting for delegates, guests, and sponsors to enjoy the city while networking and dining.
The last time that the MGI NA Annual Conference was held in New York City was 1995 when it was hosted by Joe Tarasco's firm which was the New York member of MGI.
Thank You!
Thank you to all members of MGI North America and MGI Worldwide who attended the MGI North America Annual Conference this year, including a record-breaking number of sponsors for their support, participation, and contributions throughout the two days.
https://mgina.com/wp-content/uploads/2018/12/NCYC-Skyline.jpg
675
900
Webmaster
https://mgina.com/wp-content/uploads/2018/04/MGI-NA_Logo.png
Webmaster
2018-12-07 19:12:57
2022-03-10 20:09:36
Highlights from the 2019 MGI North America Annual Conference