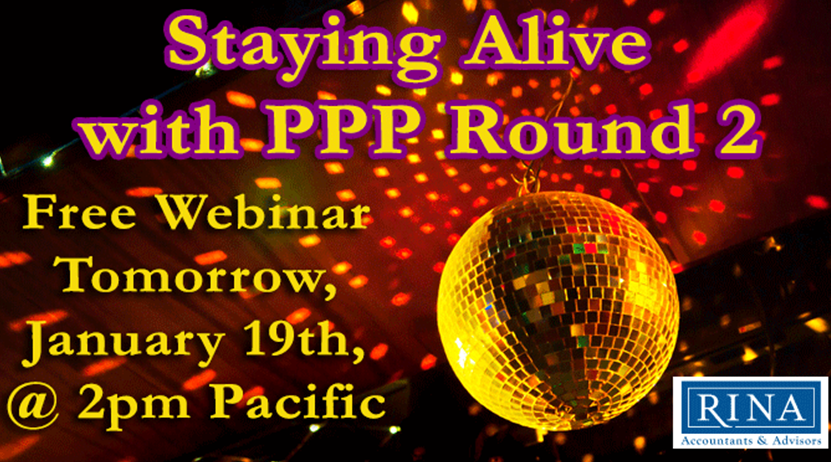 Date: January 19, 2021
Time: 2:00 pm – 3:00 pm Pacific on Zoom
Staying Alive with PPP Round 2 and Take Advantage of the Expanded Benefits of the Employee Retention Credit
Get the Lowdown
Free Webinar presented by RINA
Staying Alive – the long awaited follow up to the CARES Act the Consolidated Appropriations Act, 2021 – includes a $284 billion allocation to the Small Business Administration for the continuation of the Paycheck Protection Program (PPP).
The program gives a much-needed bump to small business and will provide loans to both first time borrowers as well as businesses that have already received a PPP loan.
We hope you will put on your boogie shoes and get down with us for this webinar where we will answer the following key questions about PPP Round 2:
Who Is Eligible for PPP Funds?
Does your "Current economic uncertainty makes this loan request necessary to support the ongoing operations your business."
Can you have your cake and eat it too with both the Employee Retention Credit and PPP Round 2?!!
Need more expenses to get the full forgiveness? Find out what else are allowable expenses for your forgiveness application.
How to maximize PPP Round 2 and the Employee Retention Credit
And of course, just like in previous webinar's, RINA will devote a generous portion of the program to answering questions.
If You Haven't Already Signed-Up…
Register now and you will receive an email with a link to join tomorrow's webinar.
Panelists
If you have questions on the topic that you would like us to address during the webinar, please email them to covid@rina.com.
The webinar is free, but advanced registration is required.
Register now and you will receive an email with a link to join the webinar.
https://mgina.com/wp-content/uploads/2021/01/RINA-webinar.png
462
831
Joanna Castle
https://mgina.com/wp-content/uploads/2018/04/MGI-NA_Logo.png
Joanna Castle
2021-01-18 22:31:49
2021-01-18 22:31:49
Webinar: Staying Alive with PPP Round 2