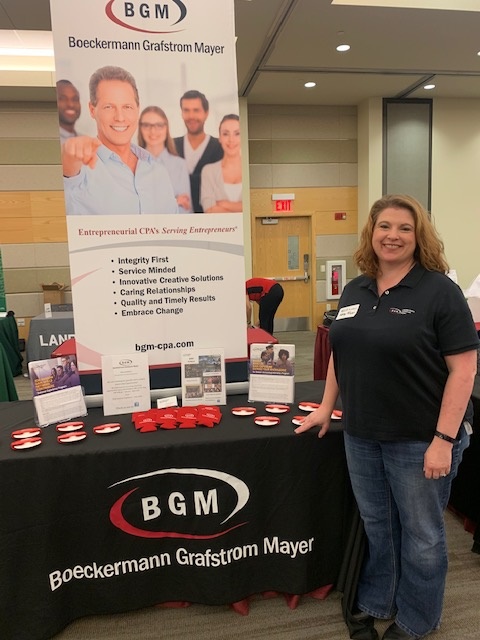 By Kathy Knipp, PHR SHRM-CP, Human Resources Manager with Boeckermann Grafstrom & Mayer
It's that time of year again…Spring Career Fair time that is. I've had the chance to attend six career fairs in three states over the past several weeks. There is a lot of time and expense that is invested in these events; however, if done correctly, the costs associated with these events can pay off immensely for employers.
It is easy for me to assume that all employers know how to prepare for a successful career fair, as I have been working these for more than 20 years. However, it came to my attention on one of my trips that this is not the case. I spoke to an employer who has been in business for over 30 years, and this was the first time he attended a career fair. While he seemed to have okay results, I feel that his results could have been better if he had prepared for the event ahead of time.
Here is the advice I gave him, and that you can use to prepare to make the most out of your next career fair.
Before the Career Fair
Research which fairs your competition attends: Yes, it is a good idea to be where your competition is. The more employers of a similar nature, the more student traffic you will see.
Post your internship or job openings at the school: Not all students will be able to attend the career fair, so it is a good idea to make sure to reach as many students as possible with your openings.
Invest in a branded booth display and signage: At the very least, invest in a quality tablecloth with your organization's name and logo on it, as well as a tabletop display or a floor sign. This allows students to quickly find your booth while they are scanning the room. The display should also contain signage that quickly answers the main questions the students will have for you.  Things like: who you are, what do you do, and why they should come work or intern for you.
Create quality handouts: Students will be meeting a lot of different organizations at the career fair so you will want to give them something to take with them to remind them of you. To give students the best image of your organization, it is important to invest in quality handouts, so you don't appear "cheap". Your handouts should reflect your organization's brand and culture. If you have access to a marketing professional, engage with them to help you.
Promotional items are always a great addition: People enjoy collecting the small promotional giveaways that booths have at career fairs. Items can be as simple as a pen with the organization's name or logo on it, all the way to a water bottle or bag. The simpler the item, the more inexpensive it will be. Research what items are trending. Keep in mind that promotional items reflect on your organization, so be cognizant of what your selections are saying. Also, people are more likely to hold onto items that they will use in their day-to-day life. Again, if you have access to a marketing professional, they can help you with item section, and likely have a relationship with a preferred promotional product vendor.
Contact your ideal students: Students will visit the booths of organizations that they recognize – either from name or brand. Most schools have websites where students have uploaded their resumes. It is vital to take the time to go through those resumes to find your ideal students and invite them to come visit with you at the career fair.
At the Career Fair
Have your smile and handshake ready to go: Some students will be nervous to approach booths so be inviting and maintain a kind and friendly demeanor. This will make it easier for them.
Wear comfortable clothing that represents your organization: It is no longer the norm for recruiters to be dressed up in suits or other business attire for these events. One way for students to see your workplace culture is through what kind of clothes you wear. Do you have a casual dress code at the office? Than jeans and a company logo shirt are a great way to show that off. Don't forget to wear comfortable shoes as you will be on your feet for several hours at a time.
Stand in front of your booth: This will be more inviting for students to approach you. It also allows you to proactively reach out to them as they walk by. Most students will have their major listed on their name tag which allows you to more easily determine which students you are looking for.
Connect with all students: You will have some students approach you that are not in the major you are looking for. Don't automatically dismiss them.  I encourage you to engage in conversation with them, so they can practice their approach. This is a great learning opportunity.
Keep your booth open during the entire career fair: Out of respect to the school and to the students who took time to attend the fair, keep your booth open until the end. Your ideal student may have had class all day and could only make it there in the last 15 minutes of the fair.
After the Career Fair
Follow up with students: It is best to email the students you met at the career fair within the first day or two back at the office. This will continue the momentum that you started with the student at the career fair.
Make notes of what worked and what didn't: You will learn something new at each fair of what worked and what didn't for your specific organization. It is always good to make notes of these items while the information is still fresh in your mind. This will allow your next event to be even more successful.
Not every career fair will be a knockout success, but with these tips, your next event should be a better one!
---
Founded in 1982, BGM is a firm of entrepreneurial and proactive CPAs and Advisors. We understand and appreciate the entrepreneurial spirit that can exist inside any business, because it exists inside our own. We anticipate needs, generate ideas, provide insight, and identify opportunities. Through our auditing, accounting, tax, and advisory services, we'll work with you to create innovative solutions to help grow your business, achieve your goals, and realize your passion. BGM has offices located throughout Minnesota in Bloomington, St. Paul, and Sauk Centre, as well as Naples, Florida.
https://mgina.com/wp-content/uploads/2020/03/MGINA-BGM-Kathy-Knipp-at-Career-Fair.jpg
640
480
MK Repetti
https://mgina.com/wp-content/uploads/2018/04/MGI-NA_Logo.png
MK Repetti
2020-03-05 19:26:44
2020-03-05 19:28:26
Boeckermann Grafstrom & Mayer's Career Fair Preparation Checklist for Employers