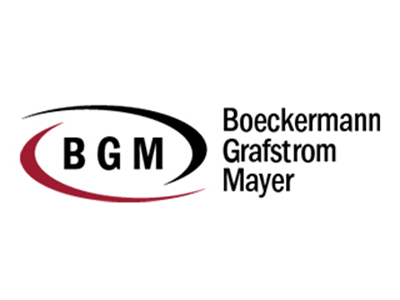 Boeckermann Grafstrom & Mayer (BGM) is pleased to announce that Nickie Wiatrak and Molly Sandbulte have joined the firm's Bloomington office, as members of the Outsourced Accounting Services Group.
Wiatrak, who has more than 15 years of experience in the accounting industry, joins BGM as Manager of Outsourced Accounting Services. She will be responsible for managing the outsourced team, onboarding new clients, and working directly with clients for their accounting needs. Prior to joining BGM, Wiatrak worked for a national accounting firm, where she oversaw a team of staff, senior accountants, and controllers responsible for providing remote accounting services for business clients. Wiatrak received a M.S. in Accounting from Kaplan University and B.S. in Accounting from the Minnesota School of Business.
Sandbulte joins the Outsourced Accounting Services Group as a Controller. Prior to joining BGM she was a Staff Accountant with a national accounting firm where she provided a variety of accounting, financial, and operations services for national clients. She earned a B.A. in Accounting and Finance from the University of Northern Iowa.
"The addition of Nickie and Molly allows BGM to expand the expertise and resources that we can offer clients through the Outsourced Accounting Services Group," said Dane Boeckermann, Principal-in-Charge of the group. "Serving the specific needs of our clients and providing solutions is always our top priority."
---
About Boeckermann Grafstrom & Mayer
Founded in 1982, BGM is a firm of entrepreneurial and proactive CPAs and Advisors. BGM team understand and appreciate the entrepreneurial spirit that can exist inside any business, because it exists inside their own. BGM anticipate needs, generate ideas, provide insight, and identify opportunities. Through their auditing, accounting, tax, and advisory services, BGM work with their clients to create innovative solutions to help grow their business, achieve their goals, and realize their passion. BGM has offices located throughout Minnesota in Bloomington, St. Paul, and Sauk Centre, as well as Naples, Florida.
Boeckermann, Grafstrom & Mayer is a member of MGI North America, part of MGI Worldwide, a top-20 ranked international audit, tax, accounting and consulting network with some 5,200 professionals in over 260 locations around the world.
https://mgina.com/wp-content/uploads/2019/02/BGM.jpg
300
400
Joanna Castle
https://mgina.com/wp-content/uploads/2018/04/MGI-NA_Logo.png
Joanna Castle
2019-08-19 17:16:36
2019-08-19 17:20:14
Boeckermann Grafstrom & Mayer Announces New Hires in Outsourced Accounting Services Group