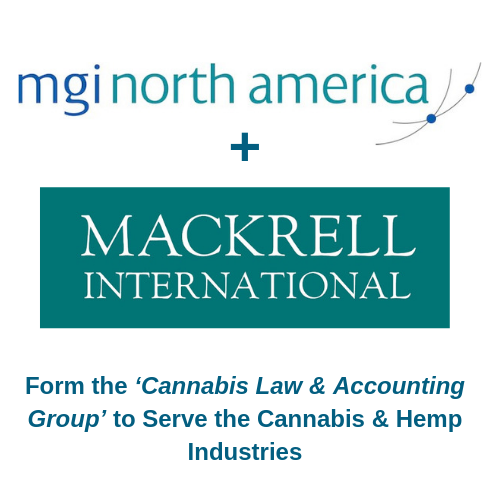 FOR IMMEDIATE RELEASE
Contact: Nancy A. Damato, Director of Marketing, MGI-North America nancy.damato@mgiworld.com 845-265-9046
MGI North America and Mackrell International Join Forces to Form 'Cannabis Law & Accounting Group' to Serve the Cannabis Industry
London and New York (May 1, 2019) – MGI North America (MGI NA), a network of independent accounting, tax, and advisory firms, and Mackrell International (MI), a UK-based global network of private law firms, are pleased to announce their partnership to form the Cannabis Law & Accounting Group to serve the medicinal cannabis and hemp industries. Drawing from MI and MGI's wide network of legal, accounting, tax, and advisory experts, these organizations have joined forces to provide collaborative services to new and established businesses in the cannabis sector. This network has a vast worldwide footprint and includes professionals who have practiced solely in the cannabis industries since 2009.
Robert Jappie, the Head of Mackrell Turner Garrett's Cannabis Law Department in London said, "We've developed a huge network of connections in these rapidly growing sectors. In addition to providing legal advice, we can make introductions to suppliers, importers, exporters, and anything that an entrepreneur of a new business needs. We're not just providing the legal advice; we're also helping to facilitate all business solutions that may be required."
Touring the U.S. and Meeting with MI and MGI Members
Jappie and Chris Lane, MI's Director of Business Development, recently toured the United States to visit MI and MGI member firms and their clients and announce the Cannabis Law & Accounting Group. Nancy Damato, Director of Marketing of MGI – North America, interviewed Jappie and Lane to learn more about their U.S. trip and the Cannabis Law & Accounting Group. Jappie commented, "It was an amazing trip, and we felt very fortunate meet so many industry leaders. We had wonderful hosts including two MI member firms with cannabis expertise, Evan J. Husney, a Partner with Foster Graham Milstein & Calisher, LLP, a law firm in Denver, CO, and Severin ("Sev") A. Carlson, a Partner with Kaempfer Crowell, a law firm in Nevada. These two firms represent numerous clients in all phases of the cannabis and hemp industries and have deep expertise pertaining to the legal and business issues that face cannabis clients."
Husney said, "I really enjoyed spending time with Robert and Chris and touring various cannabis facilities in Colorado. Nearly ten years after the legalization of cannabis in Colorado, the market here is fairly mature and it was my pleasure to be able to share experiences in this nascent industry with them." Carlson added, "New highly regulated industries, such as cannabis, benefit from collaborative efforts to ensure that new markets understand the importance of fair yet effective regulation."
Jappie and Lane were also delighted to meet Jim Marty, CEO of Bridge West, LLC, a firm specializing in providing accounting, tax, and advisory services to cannabis and hemp businesses across the U.S., and whose parent company, BGM, is a member of MGI. Jappie said, "Jim hosted a cannabis networking event in Denver, CO during our visit, and he foreshadowed the complexities and obstacles that lie ahead for the UK cannabis industry." Marty said, "It was a pleasure meeting Robert and Chris and together with my Partner, Cory Parnell, COO of Bridge West, we look forward to continuing our conversations, visiting the UK, and meeting more MI member firms and clients."
Lane added, "Our expansive trip was very successful and demonstrated the far-reach of the MGI and MI network. We had first-hand experience and guidance from lawyers and accountants who have been practicing in the sector for a number of years."
Jappie and Lane look forward to planning another trip to the U.S. and to inviting U.S. firms to the UK. In the interim, they will keep a close eye on the industry developments, and ever-changing legislation on both 'sides of the pond.' They feel that the opportunities are tremendous, challenges are significant, and there is a long way for the industry to develop. Jappie commented, "The UK will face the same problems that we've seen in the U.S., to name the biggest issues – banking and taxes. Obtaining business banking services has been an issue, and several banks don't have an appetite for this industry as it is considered a risk sector. That is something we're working on and we want to find partners in that industry that are willing to enter the market and provide banking services for legitimate businesses in this area."
The Cannabis Trades Association: the only cannabinoid centric trade association for the UK and Europe, working with all sectors of the hemp and cannabis industry to promote good practice, provide practical advice and ensure consumers of legal cannabis and hemp products have access to top quality information.
MI provides legal and advisory services to a number of UK companies that are successful in the CBD industry, and the Firm is an active member of the Cannabis Trades Association, the best- known trade body in the UK. Jappie explained, "Another issue is that businesses in the UK are subject to EU regulations, and the European agencies seem to change their position on CBD products quite regularly; this uncertainty is stressful for UK businesses. We hope to mount a challenge to the new changes in EU law to bring some stability and clarity to the industry."
Lane continued, "We have developed quite a good relationship with the Cannabis Trades Association, and they were quite glad to meet us. We took a very sector-specific approach, and we have an established cannabis law department, rather than 'tacking it on' to the end of another department. In addition to referring their members to us when they need legal advice, they are also tapping into MI's expertise to seek their own legal advice. As well as representing their members, we are also providing 'best practice and strategic guidance to them. Jappie added, "It has been a really interesting time for us and our clients."
The Importance of Partnering with Experienced Cannabis Professionals
Today, cannabis businesses need expert legal and accounting services and guidance more than ever before, and it is essential to partner with experienced and industry-savvy attorneys and accountants who specialize in the cannabis industries. Jappie commented, "Particularly in the UK and Europe, the industry is in its infancy and there is still a level of risk to be involved. Start-up businesses need to address many challenges, and even more in this space, such as banking, payment services, and tax advice. Having experienced lawyers and accountants on-board from the outset can give your business legitimacy, and a 'reputational boost.' It will mean that banks, service providers, and transaction providers are willing to work with you and invest their time and effort into your business."
Lane explained, "By forming the Cannabis Law & Accounting Group, we are providing legal guidance and accounting and tax services and support to new and established businesses, so they know exactly what they can and cannot do. Our team and resources are also instrumental in assisting overseas businesses looking to establish themselves in the UK or Europe. We are well- versed at helping companies navigate these interesting growth markets."
Truly, the Cannabis Law & Accounting Group is "one-stop shopping" and our attorneys and accountants are here to help. Please contact us for more information.
Background and Contact Information:
About MGI North America: MGI North America is a region of MGI Worldwide, one of the world's longest-standing international networks of independent audit, tax and accounting firms. MGI Worldwide member firms represent over 5,200 professionals in over 90 countries. Across all eight of the MGI regions, member firms provide expert advice for the most complex of client issues, spanning from small and medium size businesses, family businesses, entrepreneurial and fast- growth enterprises to subsidiaries of major multinationals and not-for-profits. To learn more about MGI North America, visit https://mgina.com/ and to learn about MGI Worldwide, visit https://www.mgiworld.com/. Also, view MGI's Youtube channel and follow MGI on Twitter and LinkedIn.
About Mackrell International: Mackrell International is a global network of independent law firms headquartered in the UK with representatives for Europe and Africa, Asia Pacific and The Americas. MI was founded in 1987 and currently represents a total of 4,500 lawyers and attorneys located in 170 offices and 60 countries. MI advises a range of clients from the world's largest multinationals and public sector organizations to owner managed businesses and entrepreneurs. To learn more about Mackrell International, visit http://www.mackrell.net/ and view Mackrell Turner Garrett's Youtube channel. Follow Mackrell Turner Garrett on Twitter, and follow with Mackrell International and Mackrell Turner Garrett on LinkedIn.
https://mgina.com/wp-content/uploads/2019/06/Join-Forces-to-Form-'Cannabis-Law-Accounting-Group'-to-Serve-the-Cannabis-Industry.png
500
500
Joanna Castle
https://mgina.com/wp-content/uploads/2018/04/MGI-NA_Logo.png
Joanna Castle
2019-06-04 21:59:35
2020-05-07 04:41:15
MGI North America and Mackrell International Join Forces to Form 'Cannabis Law & Accounting Group' to Serve the Cannabis Industry